Hello and Welcome to Healthy Cook Recipes
There are many food recipes for eating everyday. For people care about Health, just choose a recipe that good for your health. Healthy food is the easiest and safe way of detoxification, and it provides the necessary number of vitamins and minerals. So, find Healthy Cook Recipes that you can eat. The Healthy food would be great for Diet or people who want to lose weight as well. Enjoy your meal today!

While I was thinking about preserving the healthy food yesterday, I found one interesting dish that can be both breakfast and snack, Granola. According to the topic, you can eat whenever you want by storing in carton or glass jar after you cooked it. You just wait until the granola cool completely before storing in glass jars. Moreover, you can also bring it when hiking or camping or backpacking because it is lightweight, high in calories, and easy to store.



Photo: eatme.greyfuse.net
In addition, the Granola contained a lot of nutrients from the ingredients like oat, coconut, raisin and sesame seed etc., it's very suitable for health lover like me. Let's make it buy yourself for saving money or buying the pre-made if you are in a rush.

Kitchenware

Large sauce pan or kettle
Mixing bowl
Carton or glass jar
Ingredient

1/2 teaspoon of salt
1 tablespoon of cinnamon
1/4 cup of sunflower seeds
1/4 cup of sesame seeds
1/2 cup of canola oil
1/2 cup of honey
1/3 cup of bran
1/3 cup of toasted wheat germ
1 1/3 cup of raisins
1 1/2 cup of unsweetened coconut
2 cup of chopped walnuts
6 cup of old fashioned oats
You may add other dried fruits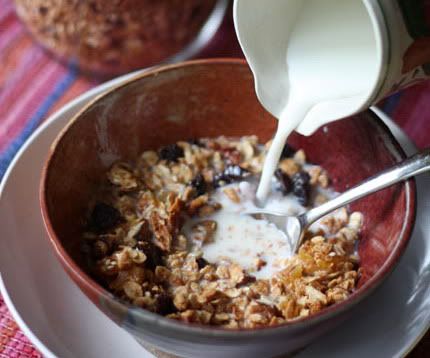 Photo: artisanbreadinfive.com
Preparation

Pour the oil and honey in a large sauce pan or kettle.

Heat the mixture with low temperature and stir until combined but don't let the mixture come to a boil.

Place the oats, bran, wheat germ, coconut, sunflower seeds, sesame seeds and walnuts into the mixture.

Stir well in coat. Add the salt and cinnamon and stir until well blended.
Preheat the oven to 350 degrees and place 1/3 of the granola on a large cookie sheet. Bake 5 minutes.
Continue baking another 10 minutes but be sure to toss the granola in this last 10 minutes a couple of times to be sure it is cooked all the way through.
When done the granola should be a light brown but be careful not to burn it.
Cook the rest of the granola in a 1/3 batch at a time like above.
Place the cooked granola in a large bowl and fold in the raisins.
The granola must be cooled if not it will become too soft from the moisture.